Jen Jans
Assistant
I have been working as a law clerk and legal assistant in Ottawa for over ten years. I have done considerable legal support work for workers and major trade unions in the Ottawa area relating to the protection of worker rights.
I have extensive experience in litigation, specifically the preparation of human rights matters before the Human Rights Tribunal of Ontario and the Canadian Human Rights Commission. I routinely assist with the preparation of applications under the Federal Courts Rules and applications for leave to the Supreme Court of Canada. I can assist clients in both English and French in navigating some of the procedural labyrinths and pitfalls that create barriers to access to justice in our legal system.
Prior to my career in law, I completed my Bachelor of Arts degree in Psychology at Carleton University where I studied and worked in a neuroscience laboratory investigating the relationship between diet and seizure susceptibility as well as diet and behavior in specific strains of rats. I much prefer working with people now, although given the state of human constructed conflicts, austerity, discrimination, immigration repression and environmental disasters, I recall with fondness the intelligence and community orientation of rats.
Email: [email protected]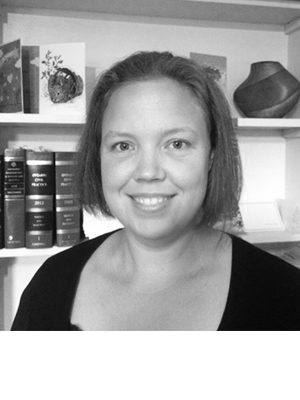 Tel: (613) 232-2688 ext. 200
Education
Seal in Litigation, Institute of Law Clerks of Ontario
B. A. Hons, Carleton University 2003
Publications
Chronic omega-3 supplementation in seizure-prone versus seizure-resistant rat strains: a cautionary tale, Gilby KL, Jans J, McIntyre DC. Neuroscience. 2009 Oct 20;163(3):750-8. doi: 10.1016/j.neuroscience.2009.07.013. Epub 2009 Jul 25.
Postnatal epigenetic influences on seizure susceptibility in seizure-prone versus seizure-resistant rat strains. Gilby KL, Sydserff S, Patey AM, Thorne V, St-Onge V, Jans J, McIntyre DC. Behav Neurosci. 2009 Apr;123(2):337-46